IT project success eventually comes down to your training team.
Help them, to help you, drive project success. Arm them with Runthru's solution for knowledge transfer.
Writing IT training materials is usually time consuming and draining.
And all the work is done under significant time pressure. This means burnout, poor content, and mistakes.
It takes 4 - 12+ hours to write a training guide for one procedure.
It takes an extra 5 - 12+ hours to create a video for the same procedure.
Add 20%+ every time there is a change.
Using Runthru's software, teams around the world:
Deliver work 4x faster, in higher quality, with automatic adherence to standards, and with a lot less stress.
A unique, successful approach
We separate knowledge writing from design and layout.
The knowledge expert is free to focus on the accuracy of their content.
The software does the design and layout for Sharepoint, Word, PowerPoint, eLearning, video and others using AI, powerful algorithms and customisable templates.
"It is easily 10x faster than doing the same thing on your own. And must be 50x faster if there's a change"
S.W. (Consultant, Top 4 Consulting Firm)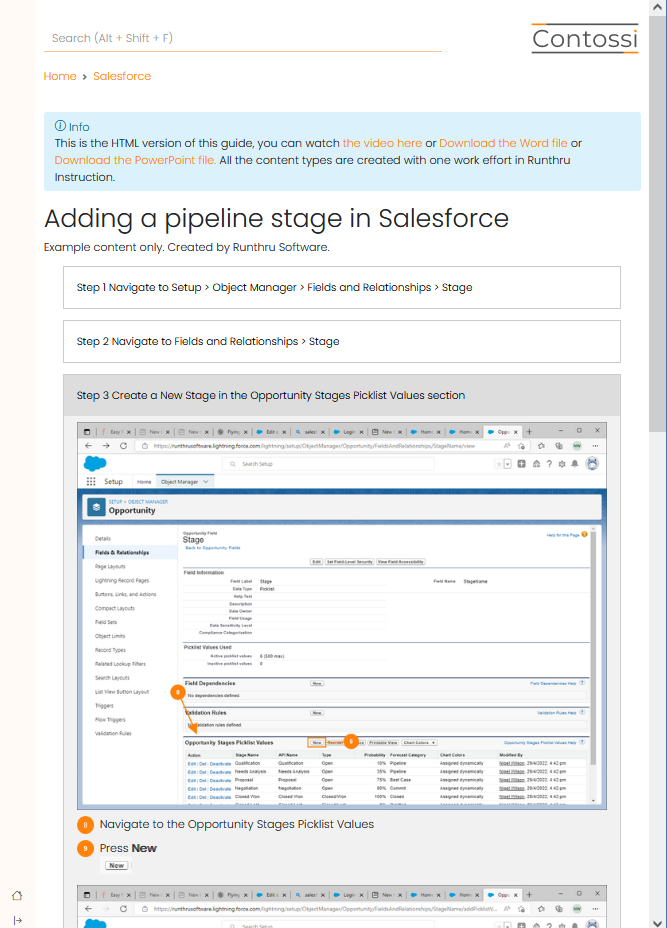 Page created in Runthru Instruction, site created in Runthru Fusion
Much faster for the creator, even better for the user.
Not only is the creation task easier, the content created is world class.
(This example, created in Runthru, is 'Adding a pipeline stage in Salesforce' from contossi.com)